Microsoft Windows 7 Home Premium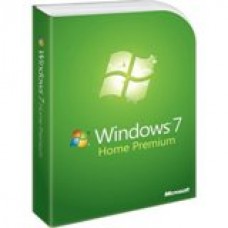 Product Code:
Microsoft Windows 7 Home Premium
Price: RM365

Your PC, simplified
You told us to make Windows simpler and easier to use. We listened. Windows 7 has better ways to find and manage files—like Jump Lists and improved taskbar previews—to help you speed through everyday tasks. It's designed for faster and more reliable performance, so your PC just works the way you want it to. With 64-bit support, you can take full advantage of the latest powerful PCs. And great features like HomeGroup, Windows Media Center, and Windows Touch make new things possible.
Get to know Windows 7, and see how it can simplify just about everything you do with your PC.
| | |
| --- | --- |
| Latika, a Microsoft engineer, guides your interactive tour ofWindows 7. | Windows 7 has hundreds of improvements—see the top 10. |
| From HomeGroup to Jump Lists, Windows 7 is packed with features. Check them out. | These short videos give you a sneak peek at some Windows 7 highlights. |
Engineered by us. Inspired by you.
A few years ago we started asking PC owners what they wanted from Windows 7. The result?
Windows 7 simplifies everyday tasks
| | | |
| --- | --- | --- |
| Takes the headache out of sharing files and printers on a home network. | Speedy access to your favorite pictures, songs, websites, and documents. | A quick (and fun!) new way to resize and compare windows on your desktop. |
| | | |
| --- | --- | --- |
| 7 great programs, 1 free download. Mail, Movie Maker, Photo Gallery, and more. | Find virtually anything on your PC, instantly. | Better thumbnail previews, easier-to-see icons, and more ways to customize. |
Windows 7 works the way you want
| | | |
| --- | --- | --- |
| Windows 7 makes the most of powerful 64-bit PCs, the new desktop standard. | Redecorate your desktop with fun new themes, slide shows, or handy gadgets. | Designed to sleep and resume quicker, be less memory hungry, and spot USB devices faster. |
Windows 7 makes new things possible
| | | |
| --- | --- | --- |
| Play your media on other PCs, stereos, or TVs around the house. | Enjoy music and video on your home PC—even when you're not at home. | Pair Windows 7 with a touchscreen and you won't always need a keyboard or mouse. |
Start programs faster and more easily, and quickly find the documents you use most often.

Easily create a home network and connect your PCs to a printer with HomeGroup.

Connect to company networks easily and more securely withDomain Join.

In addition to full-system Backup and Restore found in all editions, you can back up to a home or business network.

Help protect data on your PC and portable storage devices against loss or theft with
Write a review
Your Name:
Your Review:
Note: HTML is not translated!
Rating:
Bad
Good
Enter the code in the box below: